I was doing some spring cleaning today and OMG..the dust was all over the place. So, as I cleaned the DVD rack, I started to count and wondering how many DVDs that I had collected over 5 years. Yup... too many and the most thing that I hadn't realize was, there were Matsujun in most DVD I own.
I had no idea how's that going on...It's not that I hate him or love with hime at the same time..it's just that I don't fancy him as much as other members of Arashi..but still, I like him as a part of Arashi...for example..last time , my friend introduced me to this quiz..and I was so excited and gave it a shot....
Which Arashi member are you compatible with?
and the answers that I got was...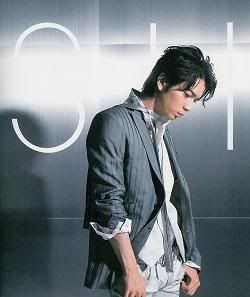 Congratulations!!!
You and Matsumoto Jun have gotten married and are now on your way to a special Italian Honeymoon in the Amalfie Coast with nothing but good yummy pasta and beautiful beach shorelines to fill your hearts with romance and passion!! *hu..hu..hu...I wish it could be anyone else instead of him.. :( *

Imagine that...I tried it for 10 times in a row..but still the answer that I got was remain the same...how hard can that be? my sisters and my brothers laught at me when I scored Matsujun...they even made a stupid gossip by saying that Matsujun and I were made for each other....Baka..!!
I admit that most if the drama that staring him are interesting...so, I can't help buying them....and the othe reason that I bought because...he's a part of Arashi.....